Share Now
Have you ever looked at a walnut and realised that it looks a bit like a brain? I often marvel at how foods that look like different parts of our body help with the health of that body part! Walnuts are full of omega-3 fats, which are imperative for brain health.
Thanks to Walnuts Australia, here's a recipe for a delicious salad…
Beetroot, Orange & Toasted Walnut Salad
Serves: 6 – 8
Ingredients:
6 small to medium-sized fresh beetroot
2 fresh oranges
A few handfuls of rocket
100g goats cheese, marinated or plain
2 tbs fresh tarragon leaves
3⁄4 cup Aussie walnuts
Honey
Extra virgin olive oil + sea salt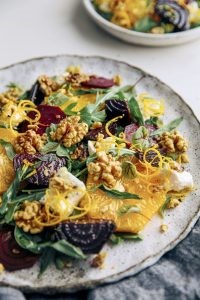 Peel the beetroot. Keeping one beetroot aside, chop five of the beetroot into 1-inch pieces. Place the chopped beetroot onto a baking tray, add a little drizzle of olive oil, and bake at 180C for 30 minutes. Once the beetroot are cooked, remove them from the oven and set aside to cool slightly. While the beetroot are cooling, peel roughly 8-10 pieces of orange zest from the oranges using a peeler. With a sharp knife, finely slice the orange zest lengthwise creating super thin strips of zest, then set aside ready for assembling.
Place a fry pan onto medium heat then add the walnuts, a little drizzle of olive oil, a sprinkle of sea salt, and toast until golden, stirring regularly so they don't burn. Remove the walnuts from the heat and set aside. Next, slice the set aside beetroot into thin round slices and set aside. Peel and slice the oranges into 1cm slices and set aside.
To assemble the salad, place the rocket onto a large serving plate or bowl. Add the roasted beetroot, orange slices, the fresh beetroot slices, and crumble over the goats cheese. Now add the walnuts, orange zest, and fresh tarragon leaves. Just before serving drizzle the salad with a generous amount of extra virgin olive oil and a drizzle of honey. Serve immediately and enjoy
Share Now