Share Now
So says a friend of mine who is in his 80s, is currently still very active but is terrified of being put into a nursing home. How sad is this statement? But is sums up the fears that many have of being shut away from society and losing freedom and mobility just because a person has reached a time in their life where they need extra help.
This is not to say that many of our nursing homes are not doing a great job, but we do know that many are also sadly lacking.  The recent Royal Commission has highlighted the fact that large numbers of older Aussies have been mistreated neglected and abused. They have suffered loneliness, cruelty and disrespect. Another friend of mine who recently passed way, spent the last five years of in a nursing home. It was very nice, and she received good care but she was not really happy to be there and resigned herself that it was for the best so that she was not a burden on her family. She passed away aged 91 and the last 6 months of her time there was under strict Covid 19 restricted visiting and contact.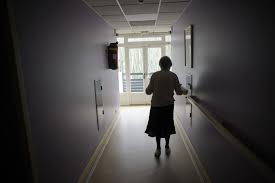 As we get older, we are likely to need extra help because our health or our ability to do things for ourselves is diminished. Is it really in our best interest to be placed in a nursing home? We discontinued the practice of placing people in institutions just because they were disabled or had certain mental problems but we still continue to lock away our elderly in nursing homes because we are unable to give them the care they need in the comfort of their familiar environment in their own home.
This is not only traumatic for the person placed in the nursing home but is takes its toll on relatives and friends when faced with the only option of placing them in a nursing home often against their will because there is no alternative.  More than 100,000 aged people in Australia are currently on the waiting list for support at home or home care. Nearly 20,000 of those on this waiting list are forced to enter a nursing home.  As high as 10% of those on the list die waiting for this assistance.
When are we going to see funding and support made available to all elderly Australians who find that they need help and want to stay in their own homes? The Treasurer recently announced extra funding of $1.6 billion for older Australians to assist them to be supported to live at home for longer. This will hopefully provide an additional 23,000 packages. That still means there will be about 77,000 people at the present time who will be on the waiting list.
I do not mean to diminish the great work by many nursing homes where the level of care is excellent and where a need is filled, but there are a great number of these places that are simply not suitable.  The best solution is to support people to live in their own homes for as a long as possible and for as long as they want to remain in their own homes by providing the assistance they need, when they need it and the manner in which that assistance is required. It is a cheaper option for the taxpayer, and it empowers older people to remain in charge of their destiny.
Share Now