Share Now
July is the month that many people participate in "Dry July". This is when people refrain from drinking alcohol for the month of July in order to raise money for cancer research and support. Thanks to Huffington Post for sharing this refreshing mocktail recipe.
Ingredients
1 litre sparkling water
1 pear, sliced
2 kiwi fruit
2 limes, quartered
1 tsp stevia extract
Mint, to garnish
Method
Squeeze juice from limes into a blender.
Halve kiwi fruit and spoon out flesh, chop and add to blender.
Add sliced pear, stevia, ice and sparkling water to blender.
Blend, pour into glasses and garnish with mint.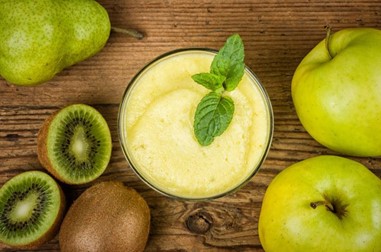 Photo: Huffington Post Australia
Share Now