Share Now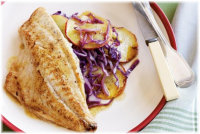 Recipe/
Ingredients
1/2 cup vegetable stock
1 large red onion, halved, sliced
2cm piece ginger, peeled, grated
2 garlic cloves, crushed
1/4 red cabbage, shredded
2 royal gala apples, cored, sliced into rounds
1/2 lemon, juiced
Sprig of sage
4 snapper fillets
Method
1. Heat enough stock to cover the onion and sauté on a medium
heat until tender.  Add ginger and garlic. Cook, for another
minute or until aromatic. Add cabbage, apple and 2 tablespoons
lemon juice to pan.
2. Reduce the heat, cover and cook, stirring occasionally, for 15
minutes or until cabbage is wilted and apples tender. Season
with salt & pepper.  Adding extra stock as needed.
3. Heat the oven to 180° C. Divide the fish into portions. Season
and wrap in grease proof paper with a sprinkling of stock and a
leaf or two of sage. Seal the ends of the paper to create a
steaming pouch. This can be done by wetting the join and
folding the paper over itself. Cook in the oven for 7-8 minutes.
4. Finely chop the remaining sage and add it to the apple and
cabbage mix.
5. Plate the snapper with the cabbage and apples. Serve with a
fresh green garden salad.
Recipe provided by Di Wallace – Naturopath,
Natural Health Training & Development Manager
Share Now