Share Now
I managed to shed 11 kilograms in the first 26 days on the hCG diet; no wonder AMC calls it their Kick Start Weight Loss Program.
During Stage 2, I continued to drop another kilo a week and my weight loss now totals 18 kilos and counting.
I much prefer to monitor my size and shape by my measurements and not my body weight and I'm delighted that my waistline alone has already shrunk by around 25 centimetres or about ten inches.
December is probably not the best time of year to try and lose weight or adopt a healthier lifestyle given all the Christmas parties and over-indulging that happens during the silly season.
But this might be a great time to get mentally prepared to make a healthy start to the New Year.
They say life's what happens when you're busy making other plans and the reason I managed to get myself out of shape so much and stack on twenty kilos, was while nursing an avulsion fracture of my left foot and spending five months in a moon boot.
On my doctor's advice, I couldn't weight bear at all for the first two weeks and the intense pain reduced my walking to simply that of necessity over the months that followed.
Power walking is my preferred method of training and with that sidelined I soon lost my fitness and the mental benefits you get from the endorphins released through regular exercise. Before I knew it my mood began to darken and I soon started feeding my negative emotions with foods rich in fat and sugar and of course the kilos of fat expanding my waistline soon followed.
I was interested to hear this week that recent clinical studies have confirmed what we already knew deep down, that junk food hijacks our brain and rewires it to make us crave high sugar and high fat laden foods.
And what's more, tests on mice have revealed that the females were more susceptible to binge eating.
I knew I couldn't just cut down on my food fuel intake to get my eating under control; I had to totally break my unhealthy eating cycle and recalibrate my body.
This meant totally eliminating refined sugar and fat and complex carbohydrates and that's what led me to the hCG diet.
What is the hCG Diet?
hCG stands for 'human chorionic gonadotropin', which is a protein-based hormone present in high levels during early pregnancy.
It was back in 1954 when a UK endocrinologist and author of Pounds and Inches, Dr Albert Simeons, first proposed hCG as a weight loss tool and combined it with an ultra-low-calorie diet of around 500 calories per day. Back then the hCG hormone was administered via injections but today it's a simply spray under the tongue.
The hCG diet has been very popular ever since helping thousands of people achieve dramatic weight loss.
There are divided opinions on its success in relation to weight loss, so I encourage you to do your own research and here's a good place to start;
https://www.menopausecentre.com.au/kick-start-weight-loss-program/
Here's an excerpt from the welcome booklet by Dr Gary Aaron explaining why AMC has chosen to include the hCG as part of their weight loss program;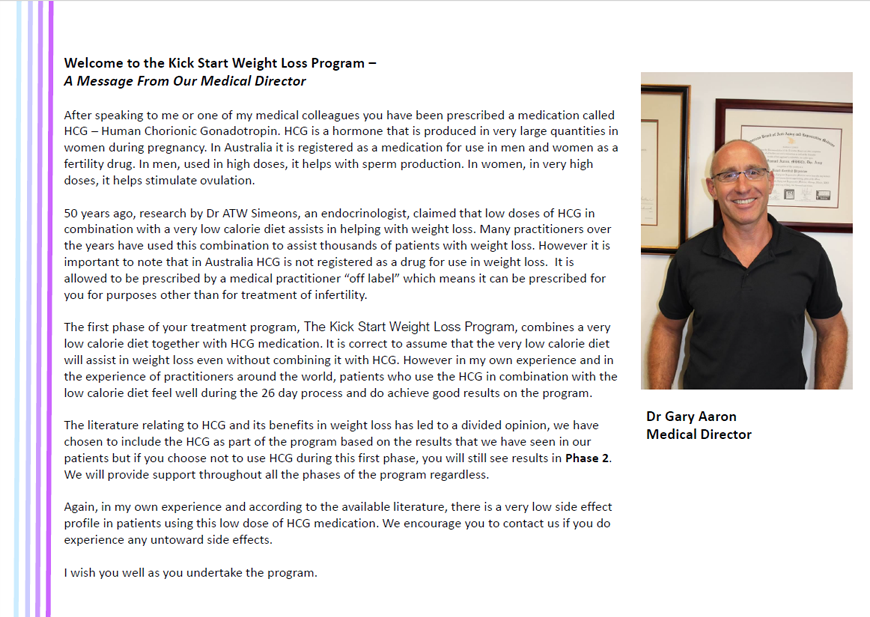 After passing all the necessary pathology tests to confirm my suitability and following my appointment with an AMC doctor, I was able to start on the program.
I won't lie, the hCG diet isn't for the faint-hearted but it's totally worth it. It is hard-core and should be followed to the letter if you want to see the sort of startling results like I've achieved in such a short time.
The key is to be motivated to stick with it and achieve your goal and to be organised and plan ahead.
Despite only eating 500 calories each day, with each meal containing a very small portion of protein, a vegetable and a piece of fruit, I was astounded that I wasn't hungry and didn't feel lethargic.
What made it much easier to stick to consuming just 500 calories a day was the great variety of yummy recipes that are included with the program including; Hot & Sour Thai Prawn Soup, Italian Prawns with Tomatoes, Tacos and a delicious Tomato Salsa dish.
Here's my favourite recipe for their Crunchy Chicken Salad. I don't eat meat so I substitute the chicken for other proteins like fish or other seafood and now that I'm in the third phase and maintaining my weight, I also choose feta and walnuts as my protein.
Crunchy Chicken Salad
Ingredients:
100g raw chicken (or protein of your choice) cooked and shredded
1 large (212g raw) apple, diced
5 x 20cm stalks celery (200g raw), sliced
3 tablespoons lemon juice
1/8th teaspoon cinnamon
Dash of nutmeg
Dash of cardamom
Dash of salt
Stevia to taste
Wedge of lemon
Method:
Mix ingredients together, sprinkle with stevia and cinnamon
Chill for 20 minutes
Serve with wedge of lemon
NOTE: This dish contains 1 portion of fruit from daily allowance.
Total = 244 calories
I've learnt how to cook quick and delicious meals without using fats, sugars and complex carbohydrates like bread, rice and pasta.
I have no doubt the corner stone to my success in shedding 18 kilos on the hCG diet was the regular contact and support from the talented naturopaths and nutritionists at AMC, who kept a close eye on my progress.
As part of the program you get a personal call three times a week in Stage 1 from these extremely qualified and caring professionals. It was like having my own personal trainer and nutritionist at my fingertips and I always looked forward to hearing from Hayley, Di, Samantha or Hannadi, who were all very knowledgeable and helpful.
They were always ready to lend their support, make suggestions, answer any questions and give me lots of tips on how to stay on track.
I'm now in the hardest phase, which is trying to keep the weight off and as 'moderation' isn't a word in the English language that I can easily relate to, I've decided over this Christmas and New Year to be sure I balance any over-indulging with days where I only consume 500 calories using all the hCG sugar-free and fat-free recipes.
Season's greetings and I hope 2020 is your best year yet!
Cheers susie
Susie Elelman AM
Author, TV & Radio Broadcaster
Share Now