Susie's Hearty Seafood Paella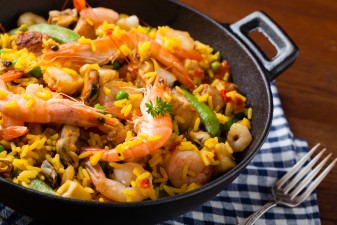 Difficulty

Not that difficult
Nutrition per serving
Carbs

34.6g

18%

Sugars

14.6g

16%

Salt

0.7g

9%

Fibre

7.6g

-

Calories

345

18%

Fat

14.6g

12%

Saturates

0.7g

9%

Protein

3.6g

34%
Ingredients
250g skinned fish, white & red cubed*
250g green prawns, pealed & deveined*
150g squid, cleaned & cut into strips*
6 mussels, scrubbed & deveined*
2 green blue swimmer crabs, cleaned & segmented
3 anchovies (optional but it really intensifies the flavour)
¼ cup extra virgin olive oil
large onion chopped
150g mushrooms sliced finely
3 cloves garlic, crushed
tomatoes (peeled & chopped) OR
1 can chopped tomatoes
2 tsp. smoked paprika
11/2 cup short grain rice
3-4 cups stock – fish or veggie
1 tsp. saffron threads soaked 10mins tsp. hot water
1 tsp. salt
2 tsp. pepper
2 tbsp. parsley chopped
1 tbsp. tomato paste
2-3 chillies (optional)
Method
Heat oil in paella dish on hot plate
Sauté onion, mushroom, garlic & chilli until tender & caramelised
Add tomatoes & paprika & anchovies cook until tomato is pulpy
Add rice, stir until rice grains are well coated
Add stock, little each time, wait until absorbed
Stir in saffron, salt & pepper, tomato paste
Arrange seafood on top, bury crab in rice
Cover with foil & place in oven 180 degrees until seafood is cooked and rice has absorbed all the liquid (20 – 30 minutes)
Add chopped parsley
Serve with tossed salad
*To save time, instead of buying & preparing the different seafood separately you can get freshly prepared marinara mix (Coles Broadway's one is great) it has fish, prawns, squid & mussels already prepared. Then you just buy & prep blue swimmer crabs.
For a less expensive variety, substitute seafood for chicken thighs (thighs are juiciest), brown off chicken on all sides, put on top of rice, cover with foil, place in oven as above, then remove foil and grill for last 5 minutes to brown up chicken again.
I've made a vegetarian version, by slightly blanching lots of colourful veggies and arranging them decoratively on top of the rice. Season, cover with foil and place in oven as above.