Hot Flushes and Irregular Periods Are Some of the More Common Menopause Symptoms a Woman Will Experience. Our Menopause Clinic Helps Gold Coast Women with the Information and Treatments They Need to Handle Their Menopause Symptoms.
The Australian Menopause Centre has experienced professionals doctors that can provide solutions to relieve your menopause symptoms and allow you to carry on with your daily routine. We've supported women who are affected by the physical changes in their bodies due to menopause, from the early perimenopause stage until the complete duration of their menopause cycle which can last up to 10 years in some women.
Our treatment program is tailored just for you by our team of doctors and clinical staff. Over thousands of Australian women have benefited from the bio-identical hormone treatments prescribed by the Australian Menopause Centre helping them to get back to feeling fabulous once again. We also offer a weight loss program to kick start your motivation, achieve weight loss and maintenance, and encourage a healthier lifestyle.
Menopause Symptoms and Gold Coast Women
All women will experience different menopause symptoms as they enter menopause, defined as the time a woman goes 12 months without her period. If you are beginning to experience some of the symptoms associated with menopause, Gold Coast women contact our menopause clinic for a free no-obligation phone consultation to discuss further and find a solution that is right for them.
Each woman is different; and the symptoms they experience, the types of treatment and the length of time on treatment will differ. There is no definitive time to be on treatment; our goal is to get you into balance and symptom-free. The best chance of staying symptom-free post the treatment program is through gradual weaning after stability has been maintained for three years.
Signs and Symptoms of Menopause
From allergies, depression and heart palpitations to incontinence, lack of concentration and
night sweats, there are a range of menopause symptoms women may begin to experience during menopause. The Australian Menopause Clinic offers a five-step menopause treatment program to combat these symptoms and improve your quality of life.
If you are looking for information or help for your menopause symptoms, simply contact our centre to discuss how we can help alleviate your suffering and bring a sense of balance back into your day.
Helping to Manage Your Stress Levels
When we are stressed, we can feel completely overwhelmed. Many women experience stress as a direct result of menopause, as it causes disruptions and discomfort in their life.
We offer solutions to ease your suffering and as a result your stress levels. On a cellular level, stress response demands a significant amount of energy and resources in order to get you through it and this can be draining and add to the frustration you may already be feeling trying to handle your menopause symptoms.
Menopause Clinic Gold Coast
The Australian Menopause Centre is available for helping the women on the Gold Coast suffering from various menopause symptoms. We endeavour to help you to understand your current state of health, and provide the solutions and treatments to help improve it.
Our experienced and knowledgeable team will prescribe a treatment program specifically tailored to your needs while offering the necessary support and care so you are not suffering alone. We will supply you with the right information and the on-going care and maintenance that provides you peace of mind as well as relief.
Call us today on 1300 883 405 and let one of our experienced medical practitioners help start you on a new path today. We've helped over thousands of Australian women relieve their menopause symptoms, and we look forward to helping you with yours too.
Why Consider Australian Menopause Centre?

Our treatment program is individually tailored just for you by our doctors
Effective treatment with bio-identical hormones – a more natural plant derived option

Regular follow-up & monitoring by our patient care team to ensure you are getting the most out of the program

Telephonic consultations and advice, at a convenient time and place for you

We have over 50 years of combined medical experience helping women on their menopause journey
For a FREE No Obligation Consultation with one of our experienced doctors
Simply click the button and we'll contact you soon.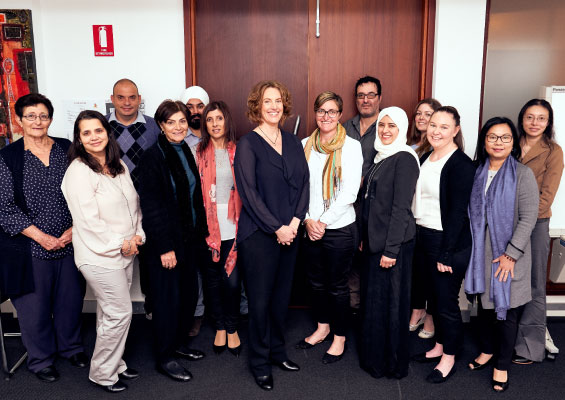 You'll have a full team to support you
To provide you with the best care throughout your treatment program, we've assembled a fantastic team of staff with different specialties but all with the same level of dedication to you.
Our Doctors are experienced General Practitioners who have chosen to dedicate themselves to the study and treatment of Menopause. They keep up with the very latest advancements in hormone replacement therapy so you can be assured of the best advice.
Our Clinical team of highly trained, medically proficient and motivated professionals are available to assist you. Our team specialises in many varied aspects of health with special emphasis on hormonal imbalance.
Dedicated Patient Care Consultants that you can contact at any time with questions or for advice. We ensure that our patients get to know their consultants so that they hear a familiar voice on the phone whenever they need to call.