With Knowledgeable and Experienced Doctors, Perth Women Call the Australian Menopause Clinic for Assistance When Menopause Symptoms Start to Appear.
Over 80000 women have used the Australian Menopause Centre when they begin to experience irregular periods, night sweats, low libido, and various other menopause symptoms. Our team of experienced professionals at our menopause clinic provide Perth women the solutions to relieve them from their menopause symptoms and allow them to carry on with their daily routine.
Menopause Quick Facts
Hormonal changes in the body cause the body to produce a variety of menopausal symptoms
Every woman is affected by menopause, though how they are affected will differ from women to women
The average age of menopause is 51 years
Menopause symptoms can last from 5 to 10 years
Menopause Treatment Perth
Menopause symptoms are caused by a hormonal imbalance when the ovaries stop producing eggs. Our five-step menopause treatment program has treated thousands of women across Australia with a more natural treatment solution that can have you back to feeling fabulous once again.  Our simple treatment steps include;
Step 1: A free no-obligation phone consultation
Step 2: The creation of a unique and tailored treatment program
Step 3: Send all required treatments anywhere in Australia
Step 4: An extensive follow-up and maintenance program to see how you are tracking
Step 5: Making any required adjustments as you go through the program
Our comprehensive treatment program includes access to bio-identical hormones, also known as body-identical hormones, which have precisely the same chemical and molecular structure as the hormones that are produced by your body.
These bio-identical hormones are derived from plants, so your body absorbs them just as it would if it was still producing these hormones itself. We have made our tailored treatment programs available throughout Australia so that no one need suffer alone, with comprehensive medical care available for the women of Perth.
Symptoms of Menopause
Some of the more common symptoms that women can experience during menopause include;
However, there are many other menopause symptoms that a woman could be experiencing, and it is important to be aware of the changes in their body that could be causing these symptoms to occur, and also the treatment options available, so you don't have to suffer from these symptoms either.
Managing Menopause
You can also help lessen the effects of the menopause symptoms that you are experiencing by making some lifestyle changes. Some examples of these changes include;
A healthier diet including plenty of fresh vegetables, fruits, cereals, whole grains with dairy products removed
Regular exercise of at least 30–45 minutes on most days of the week
Good mental health
Reduced stress levels
Quality sleep
Our doctors have helped women all over Australia since 2003 with their extensive combined experience in the treatment of menopause. Our team provides dedicated patient care support and clinical monitoring every step of the way, so you never feel like you are dealing with menopause on your own again.
Menopause Clinic Perth
If menopause symptoms are beginning to affect your quality of life, the experienced team at The Australian Menopause Centre are here to help. Contact us to discuss your symptoms and ask any questions you may have so we can help you to understand your current state of health.
Our experienced team can review your medical history and prescribe a treatment program tailored to you, so call us today on 1300 883 405 and let one of our skilled professionals help start you on a new path. We've helped over thousands of Australian women relieve their menopause symptoms, and we look forward to helping you with yours too.
Why Consider Australian Menopause Centre?

Our treatment program is individually tailored just for you by our doctors
Effective treatment with bio-identical hormones – a more natural plant derived option

Regular follow-up & monitoring by our patient care team to ensure you are getting the most out of the program

Telephonic consultations and advice, at a convenient time and place for you

We have over 50 years of combined medical experience helping women on their menopause journey
For a FREE No Obligation Consultation with one of our experienced doctors
Simply click the button and we'll contact you soon.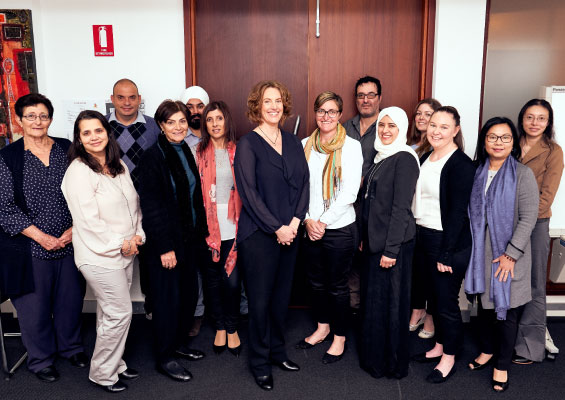 You'll have a full team to support you
To provide you with the best care throughout your treatment program, we've assembled a fantastic team of staff with different specialties but all with the same level of dedication to you.
Our Doctors are experienced General Practitioners who have chosen to dedicate themselves to the study and treatment of Menopause. They keep up with the very latest advancements in hormone replacement therapy so you can be assured of the best advice.
Our Clinical team of highly trained, medically proficient and motivated professionals are available to assist you. Our team specialises in many varied aspects of health with special emphasis on hormonal imbalance.
Dedicated Patient Care Consultants that you can contact at any time with questions or for advice. We ensure that our patients get to know their consultants so that they hear a familiar voice on the phone whenever they need to call.