Share Now
There is something about a New Year that makes me feel like I can make a fresh start, regardless of what sort of year I might have had. And let's face it; we've all had more than our fair share of ups and downs in 2021.
Before charging headlong into this New Year, I think it's always a good idea to reflect on the year that's ended, whether it was challenging or otherwise, and focus on the highlights and find the positives even if some of them have come out of the negatives.
As I look back on the last year; in amongst the Covid lockdowns, the mice plague and the floods there were still plenty of things that had me expressing my gratitude and making me smile.
The first was back in February when the first Covid vaccines landed in Australia. I'm so grateful to be living in a country where this vaccine is available free of charge to every Australian over 5 years of age.
I'm so proud that we are world leaders with almost 20 million Aussies now double dosed and amazingly more than eight and a half billion Covid vaccines have already been administered globally. I'm now triple vaxed and feeling very fortified and ready to take on whatever comes my way.
There is even an upside to social distancing and keeping Covid protocols in place. It's meant that we have seen the lowest rate of the flu nationwide last winter, with no reported deaths. Less than 40 people lost their lives in Australia from influenza in 2020, compared to 800 in 2019 pre-Covid.
Another highpoint that stood out for me in 2021 was seeing Ash Barty and Dylan Alcott come home as Wimbledon Champions. It's Dylan's second tilt at the title.
After being postponed for a year, we saw our athletes boost our morale and make us all proud when they came back from the summer games in Tokyo with a swag of medals. Forty-six Olympic medals were scored in total including a record-equalling 17 gold medals. Our Paralympians also excelled themselves bringing home 80 medals with 21 of them gold…just one medal short of their triumph in Rio in 2016.
2021 also saw me join Today Extra on the Channel 9/WIN Networks as a regular presenter. I adore working with hosts David Campbell and Sylvia Jeffreys and the rest of the team giving my opinions on the news of the day.
I was gobsmacked last April when science fiction became science fact, after NASA's Perseverance Rover successfully converted some of the carbon-dioxide rich atmosphere on Mars into oxygen. Maybe we could duplicate and adopt the same techniques and equipment here on Earth to improve our atmosphere and help reduce global warming.
Last month I was honoured to accept the invitation to join the Board of the Kennedy Foundation, which is recognised as Australia's media charity supporting media professionals in hardship.
The Kennedy Foundation's main fund-raising events include staging the annual NRMA Kennedy Awards for Excellence in Journalism, which celebrated 10 years last year. It not only carries huge prize money but also provides scholarships for budding Indigenous journalists and the Sydney Media Club lunches, featuring exceptional guest speakers, which I had the opportunity to emcee last year.
Sadly there were far too many mates who passed away in 2021 and three in particular impacted on me the greatest. They were the most extraordinary mentors I could ever have wish for and I can easily find endless positive selfless things that each of them did for me and so many others.
These three men all reached the top of their game and each made huge contributions to their craft but they all had one thing in common – their willingness to help others.
The first is John Brennan, affectionately known as 'Brenno' and deservedly earning the title of the 'Godfather of Talkback Radio'.
John was almost 90 years of age when he passed away in March leaving a legacy of unsurpassed success.
After starting his career as a radio announcer, John worked behind-the-scenes as program director and executive producer. He took three stations to the top of the Sydney ratings and was the force behind some of the industry's biggest names including John Laws, Alan Jones, Ray Hadley, Stan Zemanek, Mike Walsh, Ron Casey, Mike Gibson and Ben Fordham.
Brenno was a true gentleman, who loved helping people. John is the only Program Director I've worked with in Radio who took the time to air-check me on 2GB and then gave me feedback and corrective criticism to improve my on-air performance.
I still cherish the typewritten notes John gave me with tips and his philosophy on how to make entertaining and informative talkback radio.
No matter how busy he was, Brenno always found time to pass on his wisdom.  Even after he was officially retired he still made time to catch up for a coffee, a chat and to impart some of his sage advice and it's those one-on-one get-togethers that I will treasure the most.
The second mentor I'd like to pay tribute is Doug Malouf, best known simply as Dougie.
I first met Dougie in the 1970s when I went to Wollongong to start my media career. He had a number of real estate agencies throughout the Illawarra and was also recognised as one of the world's best trainers and inspirational speakers. Doug ran a high profile training company and authored eight books.
We worked together on many projects, whether it was me interviewing him for his audio tape series or sharing a stage with him at conferences and events. On every occasion I learnt so much from Dougie.
I was in awe every time I had the chance to see him in action on stage. His key-note speeches were riveting and I felt very lucky and indebted every time Dougie took time out of his incredibly busy schedule to help me with public speaking, corporate training and adult education.
Even though Doug's international speaking career came to an abrupt halt when he was diagnosed with Parkinson's disease, which he battled for over twenty years, he never gave up helping others.
Instead of his usual speaking gigs in front of the tens of thousands of people globally, Doug would entertain those attending the regular meetings he held for others with Parkinson's to help them learn how to manage the illness.
A day doesn't go by when I'm not implementing one of Dougie's tips on time management or repeating one of his great sayings.
The third mentor, I want to pay homage to and share the incredible impact he also made not only on my life but on so many others is Bert Newton AM MBE.
Bert's media career can easily be measured in terms of all his accolades including being a Logie Hall of Fame inductee, quadruple Gold Logie award-winning entertainer and receiving many other awards as a radio, theatre and television host and compere.
Bert's body of work is legendary but it's the things he did for people behind the scenes, without seeking any credit or publicity that I revere about him the most.
My Mum was on the receiving end of one of Bert's kind gestures and every time I look at the photo of them both and see Mum, despite being extremely ill, beaming alongside her favourite TV star, it melts my heart.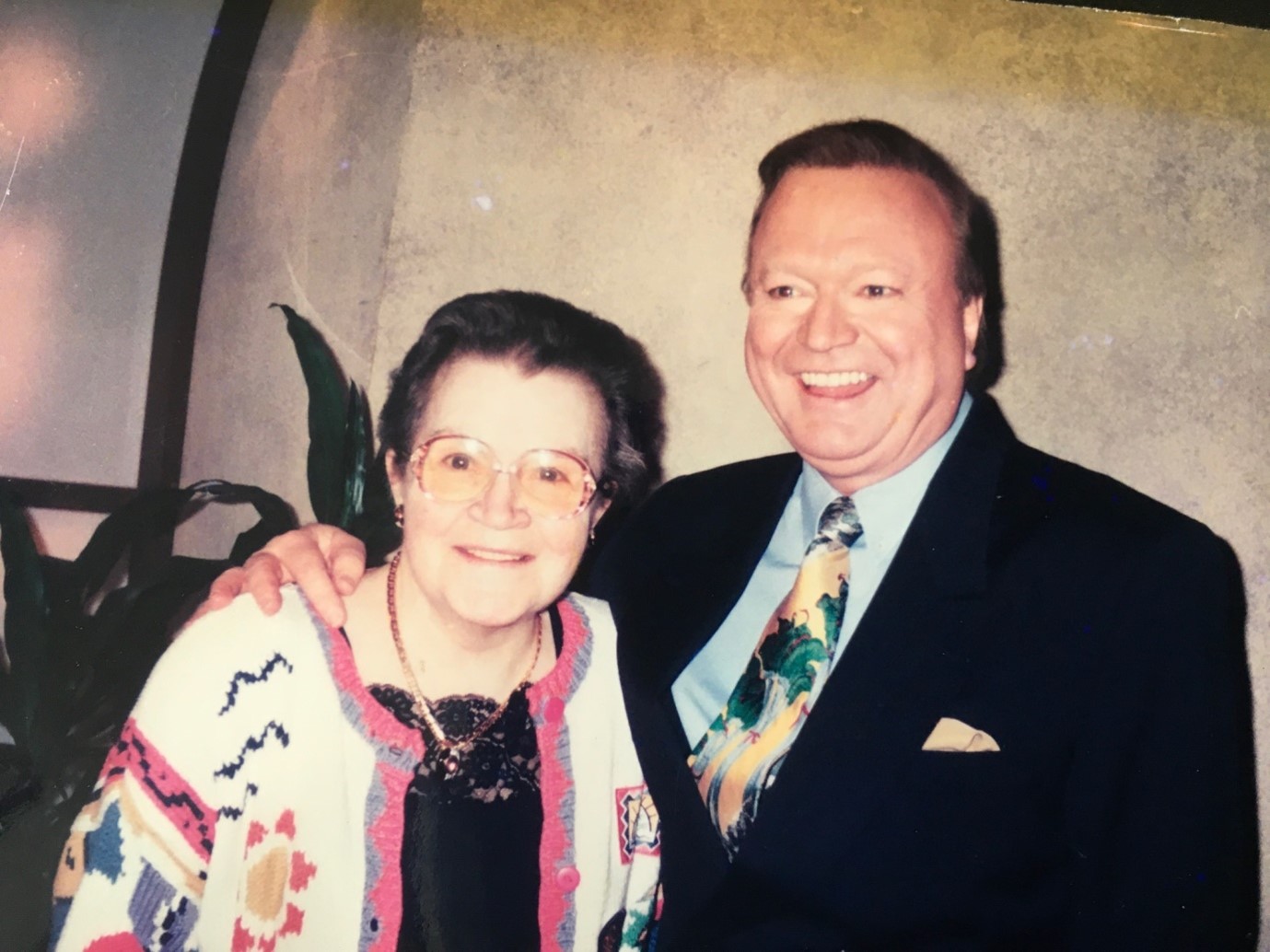 Photo: Annemarie Elelman and Bert Newton
Working alongside Bert for almost ten years across two networks was one of the highlights of my career and you could not help but learn from his genius.
Along with his generous guidance to me and others in the industry, Bert also touched the hearts of many of his loyal viewers by sending a personal response to every piece of correspondence he received, which was an enormous task.
These three men reached the top of their game but each of them still found the time to pass on their expertise to others and I know I couldn't have achieved what I did in my media and public speaking careers without their wonderful mentoring and guidance and each of them has made me a better person.
I'm excited about the year ahead and plan to take a leaf out of the John Brennan, Doug Malouf and Bert Newton life books and give back more than ever.
I hope when you take a look back on the year you've just had that you have lots of positive reflections to draw on too.
Happy New Year and I hope 2022 is your best year yet! Cheers susie
Susie Elelman AM
Author, TV & Radio Broadcaster
Share Now